George Milesis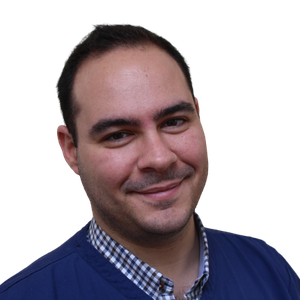 Endodontist (GDC No: 261135)
DipDS MClinDent MEndo RCSEd FHEA
George is a specialist in Endodontics, that uses his expertise to deliver high quality dental care, with a compassionate approach and having the patient's best interest in mind.
Following his graduation in Dentistry in 2011, he gained an invaluable experience in managing dental pain and endodontic emergencies, working for two years in military and regional hospitals in Greece. He then embarked on the three-year specialist training programme in Endodontology at the world renowned UCL Eastman Dental Institute, fulfilling the GDC criteria for endodontic specialist accreditation. He graduated with Distinction in 2016 and was awarded a Master of Clinical Dentistry in Endodontology, followed by the successful completion of the Membership in Endodontics examinations by the Royal College of Surgeons of Edinburgh.
George is passionate about delivering endodontic care and is committed to delivering the highest quality of treatment, with attention to detail and ensuring patient comfort. He enjoys taking time to thoroughly discuss treatment options with his patients to aid in their informed decisions. His passion for Endodontics, resulted in his appointment as Clinical Lecturer and Deputy Director of the Endodontic Masters programmes at UCL Eastman Dental institute. He served this role for four years and was heavily involved in teaching and clinical supervision of aspiring endodontic specialists, while also being a member of the programme's Board of Examiners. He is a GDC registered Specialist in Endodontics and a Fellow of the Higher Education Academy. He has designed and run several hands-on tutorials and workshops for endodontic clinical skills development and has published in international journals. He is a member of the British Endodontic Society (BES) and committee member of the world-renowned Langham Endodontic Study Group.
In his free time George enjoys socialising with friends, playing squash, travelling, being in the countryside and watching movies and plays.